Thank you for over 12.9 million views of the SuccuWiki!
Dance Of The Gods
From SuccuWiki - The Wiki of the Succubi

For other uses of the word Succubus, see Succubus (disambiguation).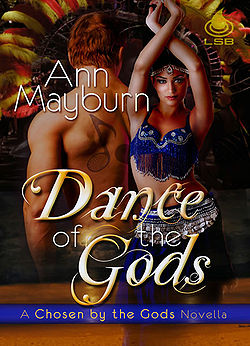 Dance Of The Gods is a novel written by Ann Mayburn. It is part of the A Chosen by the Gods series by this author. In this work, the main character of the story, Carmella Ramirez, is possessed by a Succubus.
Details
Title: Dance Of The Gods
Author: Ann Mayburn
Format: eBook
Publisher: Liquid Silver Books
Length: 40,000 Words
Language: English
ISBN-13: 978-1-59578-845-0
ASIN: B0059VJISA
Release Date: June 20, 2011
Synopsis
Locked in a demonic curse, Carmella Ramirez has lost the will to love. Once she was the star of the Ramirez Samba School and lived a charmed life. Now, thanks to bitchery and voodoo, she's the school's seamstress and living in the ghetto. At night, a succubus overtakes Carmella's body and uses her to lure men to their death. As the corpses pile up, those controlling Carmella plan to sacrifice her to their demonic god and blame her for all the men the succubus killed.
Her only hope is Sean Kalmus--a world famous musician and warrior of the Celtic God of Music, Maponus. Sean is in Brazil to DJ for the Ramirez School at this year's carnival. Maponus orders Sean to find and rescue Carmella, who is Sean's Comhcheol--the perfect harmony to his soul's melody.
With Sean's help, Carmella will have to call on her strength, his magic and their love to break herself free before she becomes known as Brazil's most notorious serial killer.
Book Review
At the time of this article's addition to the SuccuWiki, there was no review available. Tera has purchased this work and will review it as soon as possible.
External Links