Thank you for over 5.1 million views of the SuccuWiki!
Damned and Desired
From SuccuWiki - The Wiki of the Succubi

For other uses of the word Succubus, see Succubus (disambiguation).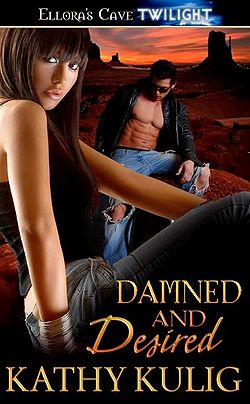 Damned and Desired is a novel written by Kathy Kulig. It is a stand alone sequel to her previous work Desert of the Damned. In this work, one of the main characters Sakari Lock, is a demon with similar powers and needs to a Succubus. The work has bondages themes in it as well as some M/M/F sexual situations with some of the characters in the work.
Details
Title: Damned and Desired
Author: Kathy Kulig
Format: Paperback and eBook Formats
Publisher: Ellora's Cave
Pages: 328
Language: English
ISBN-10: 1419961853 (Paperback)
ISBN-13: 978-1419961854 (Paperback)
ISBN-13: 978-1419924699 (eBook)
Release Date: September 26, 2010
Book Synopsis
She's a demon, he's a shapeshifting leopard. From their first meeting in the Arizona desert, passion ignites and trouble begins. As a demon, Sakari Lock must harvest lifeforce energy through sexual seductions to sustain her exiled world. But when Sakari meets Brad, she breaks the number one rule of Anartia-don't get personal with your quarry. Physician's assistant Brad Montag is drawn to Sakari's lustful advances with a blazing desire he can't explain, unaware of how dangerous she is.
No matter how enticing, she's a complication he doesn't need until he can conquer his past and regain control of his shapeshifting abilities. Sex this wicked and good can only lead to disaster. When immortals from an alternate dimension try to free their exiled world, Brad is caught in the middle of a battle that could destroy not only him, but the land he loves.
Book Review
At the time of this article's entry in the SuccuWiki, no book review was available.
External Links