Thank you for over 12.9 million views of the SuccuWiki!
Cravings (Novel)
From SuccuWiki - The Wiki of the Succubi

For other uses of the word Succubus, see Succubus (disambiguation).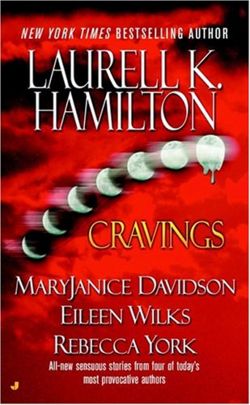 Cravings is an anthology novel by Laurell K. Hamilton, MaryJanice Davidson, Eileen Wilks, and Rebecca York. The story Originally Human by Eileen Wilks is about a succubus walking on the beach who finds a wounded man with magical powers. This story has also been released as a stand alone novel.
Details
Title: Cravings
Author: Laurell K. Hamilton, MaryJanice Davidson, Eileen Wilks, and Rebecca York.
Format: Paperback
Publisher: Jove
Pages: 368
Language: English
ISBN-10: 0515138150
ISBN-13: 978-0515138153
Release Date: June 29, 2004
Synopsis
From Publishers Weekly
One need only glance at this anthology's lineup of authors to know that it's bound to be loaded with kinky, creative sex. And indeed, that's exactly what Hamilton delivers in "Beyond the Ardeur," which uses the setting of a wedding to bring back virtually the entire cast of characters from her popular series about necromancer Anita Blake. While Hamilton's fans will enjoy revisiting these night creatures, some may be disappointed to find that this tale is all sex and no slaying; the only mystery is which paranormal hunk(s) will satisfy Anita's ardeur. Far more suspenseful is York's "Burning Moon," which follows a blind tarot reader and a werewolf as they steam up the sheets and try to trap a serial killer. Equally compelling but more inventive is Wilks's "Originally Human"; neither the succubus heroine (whose age varies between 19 and 300, with stops at 50 and 35) nor the reader uncovers her amnesiac mystery man's identity till the final pages. Davidson, meanwhile, delivers nonstop, witty repartee and a surprise denouement in "Dead Girls Don't Dance," a delightful romance between a vampiress and her old college classmate. By turns sensual, suspenseful and amusing, this anthology will satisfy almost any craving.
Book Review
The following reviews are from the Amazon.com listing in the External Links below:
4 of 5 stars
It satisfied my Cravings for paranormal romantica...
August 1, 2004
By ChicBookFiend
I couldn't wait to pick up this paranormal romantica anthology because two of my favorite authors of said genres, Laurell K. Hamilton and MaryJanice Davidson, are featured in it. However, I was disappointed when I found out that Hamilton's "Blood Upon My Lips" is actually some sample chapters of the upcoming novel Incubus Dreams -- the twelfth Anita Blake installment. I haven't read Narcissus in Chains and Cerulean Sins, and so I decided not to read the new novel's excerpts. My disappointment was short-lived because I absolutely loved MaryJanice Davidson's "Dead Girls Don't Dance," and Rebecca York's "Burning Moon." Davidson's novella is an in-between story of the hilarious Undead series. It's about a depressed vampire who runs into her old high school crush. After her crush discovers that his old schoolmate is now a nocturnal babe on a liquid diet, he agrees to take her to meet the new vampire queen (Undead and Unwed's Betsy Taylor). What transpires is a novella full of Davidson's signature wit and hilarious dialogue. I loved it! I also loved York's "Burning Moon." This is a sweet and sensual story about a werewolf's quest for revenge. He wants to find and kill the serial killer who has murdered several women, including his wife. However, a beautiful and blind tarot card reader could well change all of that. This is a very well-told story. The characterization is excellent for such a short novella. And I loved the fact that there is some mystery in the story as well. Eileen Wilks's "Originally Human" is truly remarkable. The whole guess-what-supernatural-species-the-hero-is enthralled me from beginning to end. "Originally Human" is definitely the most creative story in the book.
This is a wonderful anthology. I've become a big fan of paranormal fiction, and this book has the perfect blend of fantasy, erotica and romance that I love. I give it four stars instead of five because Ms. Hamilton has truly disappointed me. This anthology could have been the perfect opportunity for her to write a separate story about one of Anita Blake's characters. A prequel of the Anita Blake novels centered on Jean-Claude, Asher and Julianne's love triangle would've been excellent. Well, all isn't lost. At least I discovered the works of Rebecca York and Eileen Wilks. "Burning Moon" is part of a series, and I look forward to reading said series. All in all, Cravings is a very fun anthology that's perfect for the beach. Enjoy...
4 of 5 stars
Worth Buying Except for "Beyond the Ardeur"
July 6, 2004
By A Customer
I eagerly awaited this book because of Eileen Wilks and Mary J. Davidson. I was not disappointed! Eileen Wilks' "Originally Human" was simply great, and kept me guessing until the very end as to what kind of creature the hero really was - talk about inventive. Ms. Wilks has been writing long-winded, boring contemporaries for years. Thank Heavens she finally happened on to her true genre - romantic fantasy. After reading about Lily and Rule in another anthology, I just knew I had to buy Cravings.
M. J. Davidson's "Dead Girls Don't Dance", was great. You have to read it. If for no other reason than the line about the "Incredible Journey". What a hoot. Ms. Davidson's Undead series about Vampire Queen Betsy is just fabulous. Ms. Davidson's sense of humor has had me LOL for hours.
"Burning Moon" by R. York was a good read, but couldn't compare to the other two offerings mentioned above. In the past Ms. York has wrote much better books, leading me to believe that the short story format is not her cup of tea. Trust me, her past novels are very good, and well worth buying.
As for the lead off story, "Beyond the Ardeur", it is quite simply a waste. Now before all the LKH fans get ready to hang me, let me explain that I am a rabid LKH fan also. I LOVE LKH. She and Nora Roberts' "In Death" series are the ONLY books I will buy in hardback and paperback both. However, the expectation from anyone who is not a hardcore LKH fan is that "Beyond the Ardeur" is a new short story. It's not. It is several chapters of the new LKH book, "Incubus Dreams", which will be published in hardback in September. Ms. Hamilton took 3 or 4 chapters of the new book and slammed them together to create this so-called "short story". Personally, I think this is misleading and slightly unethical to represent a story in an anthology as a new short story by an author, but it is really a mismatch of chapters from a new book coming out in the fall. I realize in the publishing business "it's all about the money", but I think Ms. Hamilton has more integrity than this, and I wish she would quit letting herself be used in this manner. Anyway, the "short story" was very confusing, had no flow and only left you hanging. If you were a big fan like myself, you found the four marks that Damien got from Anita to be VERY interesting, and I can't wait to see where the story goes from here. I think the solution is that Ms. Hamilton needs to just write faster. Two books a year are not nearly enough! *grin*
External Links