Thank you for over 9.3 million views of the SuccuWiki!
Clover Succubus Set (Vendalia Foxtrot)
From SuccuWiki - The Wiki of the Succubi

For other uses of the word Succubus, see Succubus (disambiguation).

Vendalia Foxtrot is a Second Life skins and avatar designer. You can purchase various outfits, shoes, boots and other items to add to the avatar you use in the Second Life universe. This is a Clover Succubus Set that is available for purchase and use in the Second Life universe. It is designed to be part of a celebration of St. Patrick's Day. All of the items can be modified that can be worn. Everything can also be copied in this set.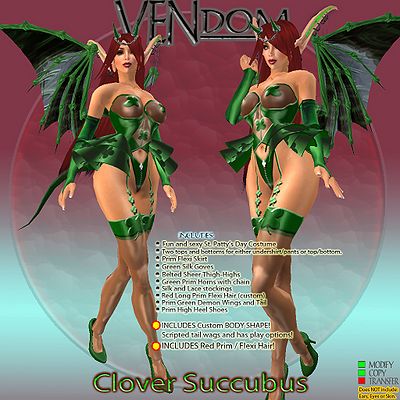 Clover Succubus Set
Clover Succubus Shoe Shape
Clover Succubus Bottom
Clover Succubus Shirt (undershirt)
Clover Succubus Right Wing
Clover Succubus Left Wing
Clover Succubus Tail
Clover Succubus Body Shape
Clover Succubus Hair
Clover Succubus Skirt
Clover Socks
Clover Bottom(underpants)
Clover Top
Clover Succubus Silk Gloves
Clover Succubus Horns (chin)
Clover Succubus Stiletto Left
Clover Succubus Stiletto Right
Notes
Comes with both Underpants/Undershirt and Pants/Shirt to allow for anyone that wants to layer their clothing with this set.
Demon Tail: The tail is animated with a wag. Also, when someone touches it, they can choose from 6 different things to do to you. These would be Grab, Stroke, Fondle, Bite, Suck, and Lick. Also, there is a menu to change the Rune Color tint by clicking on the base of the tail. Clicking on the main tails will bring up your self play menu as well.
External Links