Bound (eBook)
From SuccuWiki - The Wiki of the Succubi
Bound

Bound Reissue eBook Cover,
written by Violette Dubrinsky
Author(s)
Violette Dubrinsky
Series
Dark God Saga
Publisher
Beautiful Trouble Publishing
VAD Publishing
Publication date
June 18, 2011
Media type
eBook
Length
177 Pages
ASIN
B00FSTKAYE
For other uses of the word Succubus, see Succubus (disambiguation).
For other uses of the word Incubus, see Incubus (disambiguation).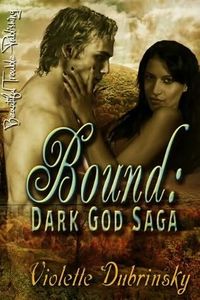 Bound is an eBook written by Violette Dubrinsky. It is the second work in the Dark God Saga series by this author. In this work the character Katrina Black is a Succubus.
Overview
Title: Bound
Author: Violette Dubrinsky
Published By: Beautiful Trouble Publishing & VAD Publishing
Length: 177 Pages
Format: eBook
ASIN: B00FSTKAYE
Publishing Date: June 18, 2011
Plot Summary
Previously known as the "nicest" of the dark gods, Hypnos, God of Sleep and Dreams, can no longer claim that title. An encounter with Marissa, a succubus who chained him and used him as her food source, nearly killing him in the process, has left him with one sole purpose: to return the favor. Naturally, when he finally locates her, he's planning to put his plan into motion with relish.
Katrina Black is a succubus living as a human. A past incident has her horrified of her own nature. So imagine her surprise when she's snatched from her home and taken to Tartarus to be punished for something she did not do. The solution is easy. She just has to tell the man—god—that he has the wrong girl. There's just one problem: it isn't easy to rationalize with an angry god hell-bent on revenge. And after experiencing some of his 'torture', Katrina finds herself questioning if she really wants to.
Book Review
At the time of this article's entry in the SuccuWiki, no review was available. Tera has this work on her reading list and will review it shortly.
External Links