Thank you for over 5.1 million views of the SuccuWiki!
Born of Darkness
From SuccuWiki - The Wiki of the Succubi

For other uses of the word Succubus, see Succubus (disambiguation).

Born of Darkness is an eBook written by Rita Vetere. In this novel is a Cambion and an Incubus as major characters.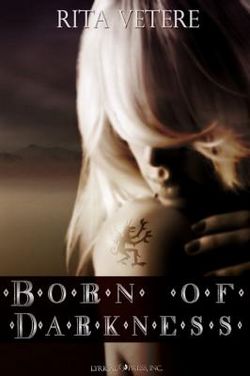 Overview
Title: Born of Darkness
Author: Rita Vetere
Published By: Lyrical Press
Format: EBook
ISBN 13: 978-7770759246
Publishing Date: June 14, 2009
Plot Summary
There's no escaping black karma, even for immortals.
Meet Jasmine Fairchild, outrageously gorgeous and extremely persuasive -- unnaturally so. Jasmine is a Cambion, part mortal, part succubus.
Enter Ahriman, an ancient and evil incubus. For centuries, he has exploited the secrets of reincarnation to reach his goal of immortality and the eradication of humanity. All he needs now is a portal, an opportunity...and Jasmine.
She stands alone as the only force powerful enough to immortalize or destroy him, and her dual nature makes Ahriman's task a little tougher than he thought...
Book Review
The following review is from the Amazon.com book listing in the External Links below:
5 out of 5 stars
Reviewed On: July 8, 2009
Reviewed By: Denise K. Rago

Ms. Vetere has done it again. The author of Ancient Inheritance has given us another great story. Born of Darkness is a page turner, filled with characters both mortal and immortal that come to life effortlessly. Evil is ever present and Ms. Vetere weaves a tale full of haunting imagery, such as "I became weak, able only to watch as the sand below me drank my blood." The evil is alluring and sensual, casting a spell over me.
Jasmine Fairchild is beautiful and tough, yet vulnerable and kind. She has felt like an outsider her whole life and has suffered much loss and betrayal, but from the moment I met her I wanted her to be happy; to discover her true identity and find happiness with her new lover. As evil crowds every corner of her life, Jasmine must fight back and Ms. Vetere gives us another heroine whose fate hinges that of mankind's.
Ms. Vetere forces the reader to question the nature of good and evil. I found I did not necessarily like all the good guys, nor despise all the bad ones which means she did her job; weaving a tale of seduction and submission into another modern masterpiece. My only complaint, the story ended way too soon. I would love a sequel to Born of Darkness; say twenty years down the road in the life of Jasmine Fairchild.
External Links