Thank you for over 5.1 million views of the SuccuWiki!
Bonechillers: 13 Twisted Tales of Terror
From SuccuWiki - The Wiki of the Succubi

For other uses of the word Succubus, see Succubus (disambiguation).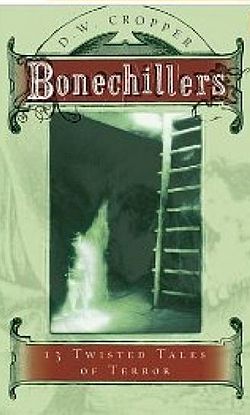 Bonechillers: 13 Twisted Tales of Terror is a novel written by D.W. Cropper. This work consists of a series of 13 short stories that are aimed at a readership of between 9 and 12 years of age. The final story in this work, called Billy Don't Do It, has a succubus appear within it.
Details
Title: Bonechillers: 13 Twisted Tales of Terror
Author: D.W. Cropper
Format: Paperback
Length: 256 Pages
Publisher: Llewellyn Publications
Language: English
ISBN-10: 0738707589
ISBN-13: 978-0738707587
Release Date: August 1, 2005
Synopsis
These thirteen, spine-tingling tales take young readers into a dark and twisted world of vampires, ghouls, werewolves, and other unspeakable creatures.
Watch Estelle struggle against the cruel imposter that only looks like her brother. Sympathize with poor Cyrus Spoon, the school misfit, whose only friends happen to be twin vampires. Cheer on Sarah who must defeat her younger brother's not-so-imaginary friend with plans for a playdate in Hell.
Cackling devils flying over rooftops, baby-swapping hags, and seven-headed beasts with a taste for blood lurk within this frightening collection of bizarre stories that splinter the imagination and chill the heart.
Book Review
The following review is from the Amazon.com listing in the External Links below:
5 out of 5 stars
Hidden little Jewel
Reviewed On: March 25, 2010
Reviewed By: Itzel
I loved this book! It reminded me of the old school scary stories, like the ones in The Scariest Stories You've Ever Heard, or Chilling Ghost Stories. They're definitely catered to older children, but a few of them are mild enough for younger kids,(ages 6-8.)
My daughter wanted this book, so I purchased it for her and made the mistake of reading the first story to her without reading it first myself. She couldn't sleep all night, so then I decided to look through the stories first and found a few that were better suited for her. They were all entertaining for me, and I would recommend them to any adult that likes reading creepy stories. Children will also love them, but they are creepy, so just make sure your kids aren't too sensitive, or else you're better off looking somewhere else!
External Links