Thank you for over 12.9 million views of the SuccuWiki!
Bloodring: A Rogue Mage Novel
From SuccuWiki - The Wiki of the Succubi

For other uses of the word Succubus, see Succubus (disambiguation).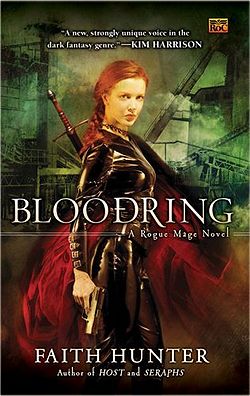 Bloodring: A Rogue Mage Novel is a novel written by Faith Hunter. It is the first book of a trilogy called the Rogue Mage series. In this universe there are beings known as Angels and Devils. At various points in the series, succubi and incubi appear. While not central characters in most of the series, they do appear to threaten the heroine of the series Thorn St. Croix.
Book Details
Title: Bloodring: A Rogue Mage Novel
Author: Faith Hunter
Format: Paperback
Pages: 336
Publisher: Roc
Language: English
ISBN-10: 0451462416
ISBN-13: 978-0451462411
Release Date: Reprint edition November 4, 2008
Other novels by Faith Hunter on SuccuWiki
Book Synopsis
About a century after devastating plagues and the War between Good and Evil, Earth is in another ice age. Demons and seraphs fight unendingly, as do humans. A host of other unworldly creatures, most with an appetite for humans, add to the general danger. Certain humans are neomages, with the power to use leftover creation energy; kept in luxurious prisons, they use their powers only for the seraphic "government." Neomage Thorn St. Croix had to escape or go mad. Hiding among ordinary humans, she even married. When an attractive policeman appears at her door and tells her she is suspected of abducting her former husband, Thorn has to use her powers to hunt for him, too. Of course, any official who watches her long enough will figure out what she is, which means madness or death for her.
Book Review
The following review is taken from the Amazon.com link in the External Links below:
4 out of 5 stars
Bloodring by Faith Hunter
Reviewed On: January 3, 2007
Reviewed By: Nicole M. McClain
Faith Hunters' debut novel Bloodring is set in a post-apocalyptic earth and tells the story of neomage Thorn St. Croix. An effective blend of fantasy tinged with romance, the story kicks off in the midst of events. Rather than a lengthy bit of exposition in the beginning, Hunter chooses to parcel out information throughout the novel. While some readers may find this an annoyance, I didn't. It kept the plot moving and provided an opportunity to become acquainted with Thorn and her way of life.
The main events center on Thorn's special abilities and the abduction of Thorns ex-husband, Lucas Stanhope - first, what makes our protagonist unique. Approximately 150 years ago, seraphs descended to earth bringing plagues and God's judgment on the human race. Nuclear war ensued, wiping out the majority of the population and plunging the planet into a new ice age. Seraphs formed a new government and insinuated themselves into everyday life. In the decades since the apocalypse, new races have emerged, as a result of human and seraph couplings. As a stone mage, Thorn has the ability to bend leftover creation energy to her will, or in laymen's terms, the ability to bond with the elements of nature and perform magic. This newfound ability comes with high costs, specifically human hostility and a life of seclusion in a compound.
Due to events that aren't completely made clear, Thorn can't live among her own kind. At the age of fourteen, she went into hiding in a small town nestled in the Appalachians. There, Thorn has managed to take up a trade, build a business and create a decent life making her living as a jewelry designer and one of three partners in a jewelry business. She's also been married and happily helped raise her stepdaughter, Ciana. All seems well until her ex-husband's kidnapping forces her into action. From that point on Thorn increasingly relies on her instincts, friends and innate mage abilities.
There is much to enjoy in Bloodring. Hunter's descriptions of life in a small town are dead on; down to the small dating pool and the fear of encouraging the wrath of a church elder (minister, preacher, what have you). The secondary characters are multidimensional; with everyone from the mule train master to the evil minions of darkness having a distinct personality. They also tend to talk and act like real people with real frailties. Even though Thorn feels alienated by her secret, she lives in a functional, supportive environment. Hunter effortlessly blends the biblical into elements of high fantasy. The easy integration of religion, theology and magic into the every day are reminiscent of Sharon Shinn's Samaria books and Kelley Armstrong's Women of the Otherworld series. Yet, Hunter has endowed Bloodring with its own unique twist.
There are a few places where Hunter's vision falters a bit, especially when it comes to the romantic aspects of the plot. Thorn's primary object of romantic interest appeals to her mostly because of his genetic makeup. When a mage and an angelic being are in close proximity they both experience an overwhelming desire to have sex - "mage-heat". The concept is brought up repeatedly; hindering the flow of the story. The idea of "mage-heat" seems to borrow shamelessly from Laurell K. Hamilton's concept of the "ardeur". It's a device that Hamilton has used over and over in her recent work to cover radically inconsistent behavior in her main character, Anita Blake. Hopefully, Hunter will avoid falling into that same trap.
There are also inconsistencies in the world Hunter has built. For instance, horses are the most common form of transportation, but cell phones and television still exist. People rely on trading and salvaging to get basic necessities but the internet is still a flourishing avenue for trade. Also, the human's incendiary reaction to mages doesn't completely ring true. Thorn is in constant fear of being discovered, and if captured expects to be raped and tortured before meeting a grizzly demise. That doesn't seem consistent with a world trying to rebuild itself after cataclysmic events, but then again that might be too idealistic.
Nevertheless, the world Hunter has wrought is an intriguing one. Deft characterizations, realistic dialogue, and excellent plot pacing combine to create a story that is both gripping and believable.
External Links