Thank you for over 5.1 million views of the SuccuWiki!
Bagat's Succubus
From SuccuWiki - The Wiki of the Succubi

For other uses of the word Succubus, see Succubus (disambiguation).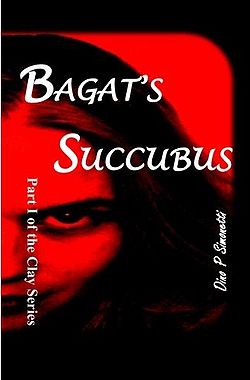 Bagat's Succubus is a novel written by Dino P. Simonetti. This is the first novel of a planned series by this author called The Clay Series. Within this series is a Succubus that is summoned by the main characters.
Details
Title: Bagat's Succubus
Author: Dino P. Simonetti
Format: Paperback
Publisher: CreateSpace
Pages: 408
Language: English
ISBN-10: 1456353632
ISBN-13: 978-1456353636
Release Date: December 10, 2010
Synopsis
A supposed innocent love ritual, on a dare for Jodi, the sociopathic girlfriend of Krystyne, the fledging witch who unknowingly has power beyond belief. Hillarea and Vic unknowingly unleash an ethereal succubus, whose only motive is to have a good time? She shares a kitsune with the shape shifter Bagat, whose motive is the permanent transition to human form to escape its demonic existence…but at what cost?
The reporter Jacqueline Ripley digs for the truth behind the disappearances in the city of Salem. Judy's innate ability unknowingly makes her the conduit and passive observer to Bagat's activities. Judy must call on her best friend, the witch Myryun to unravel the intricate pieces of the convoluted revelations. To decipher the continual reveries, while there's still time.
Book Review
At the time of this article's addition to the SuccuWiki, no review was available. Tera has this work on her reading list and will review it in the future.
External Links