Thank you for over 5.1 million views of the SuccuWiki!
Bad Angels: Heaven
From SuccuWiki - The Wiki of the Succubi

For other uses of the word Succubus, see Succubus (disambiguation).

Bad Angels: Heaven is an eNovel written by Belinda McBride. It is the third novel in the Bad Angels book series. In this novel is a succubus named Noemi who is a major character in the story.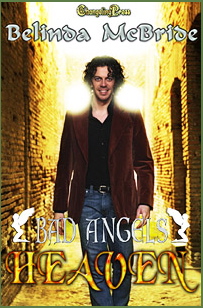 Overview
Title: Bad Angels: Heaven
Author: Belinda McBride
Cover Art: Bryan Keller
Published By: Changeling Press
Format: EBook
ISBN 13: 978-1-59596-919-4
Publishing Date:
Other Books in this series on SuccuWiki
Plot Summary
After being trapped out of space and time, Dr. Noemi Gastineau finally discovers her true nature and the amazing destiny that awaits her. However, danger surrounds her on every side. It seems that a rogue angel, an insane nymph, and a wily demon would be enough for a woman to deal with for one day. Unfortunately, Azrael, the Angel of Death is now on her tail, and he's one of the good guys!
How's a succubus supposed to get any quality time with her men when the whole universe seems to be out to get her?
Book Excerpt
An excerpt of this eNovel is available at: http://www.changelingpress.com/content.php?utype=note&uid=4222
Book Review
At the time of this article's entry in the SuccuWiki, no review was available. Tera has this novel on her reading list and will add a review shortly.
External Links