Thank you for over 12.9 million views of the SuccuWiki!
Astarotte Ygvar Figurine
From SuccuWiki - The Wiki of the Succubi

For other uses of the word Succubus, see Succubus (disambiguation).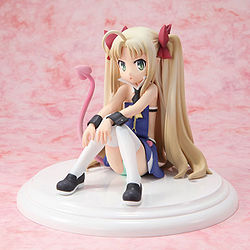 This is a one-eighth scale officially licensed model of the succubus character Astarotte Ygvar from the Japanese series Astarotte no Omocha! manufactured by Chara-Ani. It shows Astarotte sitting on a dais deep in thought.
Details
Manufactured by: Chara-Ani
Scale: 1/8 Scale (120mm)
Release Date: March 2012
Official Astarotte no Omocha! Figure
Price: $90 USD
Limited Availability
Official Description: The Succubus princess is sulking, and there are a lot of reasons for this. Someone might have told her that she needs a bigger harem, or that her mother has done something embarrassingly flamboyant again. Yet, the color on her cheeks suggests that she might not be so angry that collectors should be afraid to take her home. Her wavy flaxen hair falls over her back, creating a sort of cape and pools onto the base. Her rounded cheeks and massive green eyes make her look even younger and tinier. And by sitting with her legs drawn up like a grumpy child, she is begging to be picked up and consoled.
External Links