Thank you for over 12.9 million views of the SuccuWiki!
Astarotte Ygvar Beach Queen Figurine
From SuccuWiki - The Wiki of the Succubi

For other uses of the word Succubus, see Succubus (disambiguation).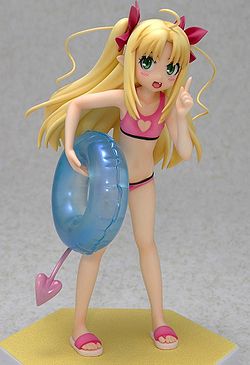 This is a one-tenth scale PVC model of the succubus character Astarotte Ygvar from the Japanese series Astarotte no Omocha! manufactured by Wave. It shows Astarotte in beach wear holding a inner tube. It is a figurine in the ASCII Media Works and Dengeki Hobby Magazine swimsuit popular heroines, also known as the Beach Queens Blitz series.
Details
Manufactured by: Wave
Scale: 1/10 Scale (135 mm)
Release Date: January 2012
Price: $50 USD
External Links