On April 3rd, 2015, the SuccuWiki had its 13 millionth view!
Ashakia: Darkspawn
From SuccuWiki - The Wiki of the Succubi

For other uses of the word Succubus, see Succubus (disambiguation).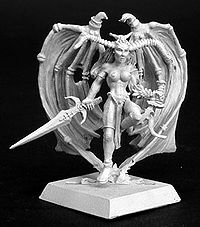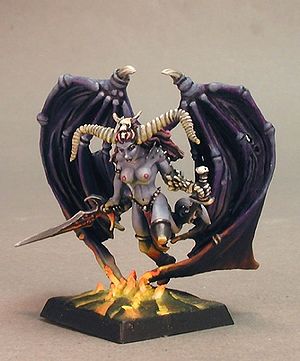 Reaper Miniatures produces various fantasy models and figures which can be used in many different role playing games. This figurine is called Ashakia: Darkspawn and is one of a series of figurines that have a Succubus theme to them.
General Information
Item Number: 14083
Figure Name: Ashakia: Darkspawn
Created By: Chaz Elliott
Manufacturer: Reaper Miniatures
Released on: June 11, 2003
Series: Dark Heaven Legends
Notes: Each Reaper miniature is made from non-lead metal. It comes unpainted, and may need some assembly.
Detail: This miniature shows an young female Succubus with both hands holding a weapon. This Reaper product is not painted and may require some assembly. When completed, this miniature will consist of one Dark Heaven Legends model. The figure ships unpainted in a blister pack.
Flavour Text: Ashakia is rare among demons. She remembers her mortal life. She remembers the utter pointlessness of it the impotence and weakness of living flesh. Those days are long gone. Now Ashakia glides through the night bringing nightmares and scandalous dreams and thoughts to the mortal world below. Her eyes see far and her silky kiss brings thoughts uncontrolled and unbidden. She is a force of a power that can break the very foundations of the world the uncontrolled desires of mortals. Mortals only need to be nudged in the right direction and they shall serve darkness all on their own.
External Links