Thank you for over 9.3 million views of the SuccuWiki!
Armageddon Bound (eBook)
From SuccuWiki - The Wiki of the Succubi

For other uses of the word Succubus, see Succubus (disambiguation).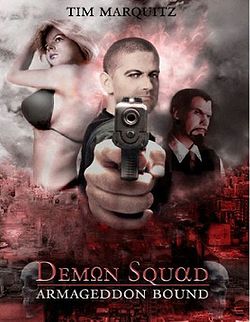 Armageddon Bound is an eBook written by Tim Marquitz. In this work succubi appear as past of the storyline.
Overview
Title: Armageddon Bound
Author: Tim Marquitz
Cover art: Jessy Lucero
Published By: Damnation Books
Length: 308 pages
Format: eBook and Paperback
ASIN: B002LLNFH6
ISBN-10: 1615720006
ISBN-13: 978-1615720002
Publishing Date: eBook: August 14, 2009, Paperback: September 1, 2009
Plot Summary
Half-devil and miles from anything resembling heroic, perpetual underdog Frank "Triggaltheron" Trigg is the last man standing against Armageddon.
As the favorite nephew of the Devil, Frank has led a troubled life, but he'd always had his uncle's influence to fall back on. Now, with God and Lucifer coming to terms and leaving existence to fend for itself, his once exalted status of Anti-Christ-to-be does little to endear him to the hordes of angels and demons running amok in the Godless world.
With help from the members of DRAC, an organization of wizards, psychics, telepaths, and low-end supernatural beings, Frank must thwart the pro-Armageddon forces and rescue an angel in whose life rests the fate of humanity.
Better luck next time, humanity.
Book Excerpt
An excerpt from the first chapter of this work can be found here.
Book Review
The following book review is the from Amazon.com link in the External Links below:
5 out of 5 stars
A very entertaining dark urban fantasy
Reviewed On: December 11, 2009
Reviewed By: B. D. Whitney

Tim Marquitz's novel Armageddon Bound is a trip into a world gone all to Hell. This is a fast-paced and exciting story keeps the pages turning as our hero tries to help save the world - and, of course, himself - from the End of Days. It features magical beings of both biblical and monstrous origins: power-hungry demons, kick-ass angels, magicians, vampires, and more. As I read this story, I found myself pulled in to this grim and hopeless world, wondering if the protagonists could possibly prevail over the powerful forces against them. They seem almost guaranteed failure.
The action in Armageddon Bound is pretty much non-stop, and the interaction between the angels, the demons, and the other characters is fascinating. We get a glimpse into a Heaven and a Hell that are unique in that they are almost abandoned. I'm not sure that I've ever read a story where angels weren't completely the good guys. In Armageddon Bound, Mr. Marquitz gives us angels who are certainly beautiful but who are not necessarily the perfect heavenly creatures that they were when God was around. And demons who are not all bad but perhaps just want to continue their existence unmolested. Or, as in Frank's case, to just get laid.
The narrator, Frank Trigg, is a strong and well-developed character. He has a irresistible, dry, self-deprecating humor that makes him completely personable. Rescuing angels, romancing succubi, saving the world, he moves from one dangerous situation to another, and although he gets his butt kicked repeatedly, he always comes back for more. Frank would tell you that this is a sign that he is less than intelligent; I say it shows his stubborn devotion to his cause. Blessed with a healthy libido, Frank is always looking down the ladies' shirts, but he admits cheerfully to being something of a dog.
There is a good amount of grim humor in this entertaining story. Sure, there is also much graphic violence and bloodshed, but it is appropriate to the high adrenaline factor of the story. Readers looking for nonstop action, a good-versus-evil struggle where the lines between "good" and "evil" are so blurred as to be almost nonexistent, and well-drawn, interesting, and offbeat characters may wish to give Armageddon Bound a shot. I'm glad I did, because it was definitely a good time.
External Links