Thank you for over 9.3 million views of the SuccuWiki!
Archangels: Books 1 and 2
From SuccuWiki - The Wiki of the Succubi

For other uses of the word Succubus, see Succubus (disambiguation).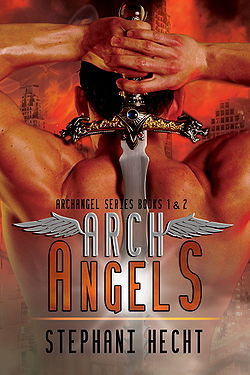 Archangels: Books 1 and 2 is a novel written by Stephani Hecht. This is a compilation of two stories, Angel Warriors and Captive Angels. Within these stories, a Succubus calling herself Lilith appears to complicate the lives of the main characters in the stories.
Details
Title: Archangels: Books 1 and 2
Author: Stephani Hecht
Format: Paperback
Publisher: eXtasy Books
Pages: 356
Language: English
ISBN-10: 1554871190
ISBN-13: 978-1554871193
Release Date: September 18, 2008
Synopsis
Angel Warriors
Ever since he refused to side with Lucifer, and his family cut him down and left him for dead, Abdiel separated himself from all other angels.
Until the Chief of Archangels, Michael, interrupted his perfectly miserable life and ordered him to Earth to head up an angel warrior team that consisted of a smart-mouthed punk empath and a blast from the past, a healer named Gabi.
Gabi spent her early life harboring a secret love for Abdiel, but he never knew she existed. Now that she's grown up, she's sure she's over him. Until he shows up at her door, where she discovers her feelings never faded, but strengthened for the dark, brooding male.
Captive angels
Love is the last thing that anyone should be thinking about with a city in danger, an ancient prophesy coming into play, and a whole horde of demons coming for their hides, but Gabi and Abdiel are sure a happily ever after is long overdue. Fairytale romance is quite different when you're fighting demons and trying to save Earth from certain destruction. It gets better when Cam gets a chip on his shoulder and a bounty on his head. Then, enter Rachael, literally the sister-in-law from Hell. Gabi holds on to love's hope when Abdiel and Cam are captured by demons. Sometimes Heaven and Hell wreak havoc on love's bliss. Sometimes love is Hell and Heaven is not the answer…
Book Review
The following review is from the Amazon.com link in the External Links below:
5.0 out of 5 stars Archangels
A Joyfully Recommended Title
Reviewed On: November 5, 2008
Reviewed By: M. Nix

Thousands of years ago, the archangel Abdiel refused to join his parents and brothers in siding with Lucifer during his attempt to take over Heaven. Tortured and unable to rescue his younger siblings, Abdiel closed himself off from the world as best he could. Now Michael, the leader of the angel warriors, is sending Abdiel to Detroit to lead an angel warrior team consisting of Cam, an immature punk empath, and Gabi, a gorgeous healer Abdiel can't seem to resist.
Gabi has been in love with Abdiel since they were children, though she never believed Abdiel could feel the same. Despite telling herself she's over him, Gabi finds herself drawn to the tormented archangel. As the two fall in love, chaos erupts around them. An ancient prophesy begins to come true and demons from Hell are out for the angel warriors' blood.
Heaven, Hell, warrior angels, demonic villains, loss, life, love, hate...the themes of Angel Warriors may be as old as time, but Stephani Hecht takes these qualities and weaves a plot that is inventive and new. Angel Warriors is a sexy, exciting tale filled with interesting, likeable characters and a fast-moving plot that had me eagerly turning the page.
Angel Warriors introduces us to the world of the Archangel Series, but Ms. Hecht manages to provide the groundwork for the series and introduce us to many major players without ever slowing the story down - a feat I greatly admire. I will warn that Angel Warriors ended with a cliffhanger that made me grateful I had book two of the series, Captive Angels, on hand to read immediately after. An engaging blend of action and romance, Angel Warriors is not to be missed.
Being newly wed isn't easy, and that goes double when demons from Hell are after you. For Abdiel and Gabi, falling in love was simple; it's staying alive that's the challenge. When Abdiel and the empath Cam are captured by Gabi's brother-in-laws from Hell, it's up to her and her fellow angel warriors to get them back. Yet even as Gabi works to save her mate and friend, inevitable change occurs. Things will never be the same and in the battle between good and evil, both sides have just upped the stakes.
Stephanie Hecht does it again! Captive Angels is a worthy successor to Angel Warriors, the first book in Ms. Hecht's fantastic Archangel Series. In Captive Angels, we continue to see the love between Abdiel and Gabi grow, even as chaos erupts and courage is put to the test. Captive Angels sets the stage for the wars and political battles that lie ahead for our heroes and heroines. At the same time, the book never loses its focus on love, whether it is between husband and wife, siblings, or friends.
Captive Angels picks up mere seconds after Angel Warriors ends. There isn't any additional explanation, so I would not recommend reading Captive Angels without having first read Angel Warriors. To me, the two books read more like one giant book, and an enthralling one at that. From beginning to end, I was hooked into Captive Angels and the teasing hints at what other characters' heroes or heroines will be have left me hungry for Ms. Hecht's next Archangel tale.
External Links