On May 4, 2016, the 3,900th article was added to the SuccuWiki!
Angel's Keeping: A Blood and Fire Novella (eBook)
From SuccuWiki - The Wiki of the Succubi
Angel's Keeping

Angel's Keeping Original eBook Cover,
written by Brantwijn Serrah
Author(s)
Brantwijn Serrah
Series
Blood and Fire
Publisher
Breathless Press
Carnal Passions (Reissue)
Publication date
December 5, 2014
January 1, 2016 (Reissue)
Media type
eBook
Length
68 Pages
ASIN
B01A30FZU6
For other uses of the word Succubus, see Succubus (disambiguation).
For other uses of the word Incubus, see Incubus (disambiguation).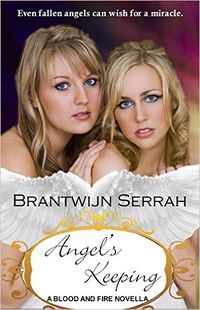 Angel's Keeping is an eBook written by Brantwijn Serrah. It is a work in the Blood and Fire series by this author. In this work the character Raschael is a Succubus and another character who is the King of the Incubi appears as well.
Overview
Title: Angel's Keeping
Author: Brantwijn Serrah
Published By: Breathless Press, Carnal Passions (Reissue)
Length: 68 Pages
Format: eBook
ASIN: B01A30FZU6
Publishing Date: December 5, 2014, January 1, 2016 (Reissue)
Plot Summary
Why would the King of Incubi send one of his spies out on Christmas Eve? Unless it is to break her heart…
As a succubus, preying on humans is Raschael's business, and mortal holidays are a frivolous waste of time. So maybe her king meant to punish her when he sent her out to hunt on Christmas Eve. Or maybe he just wanted her far, far away, so he could banish Raschael's one trusted friend.
Your little pet has run off.
Now Raschael must track down a missing fallen angel, and she doesn't have a clue where to start. Bigger predators are closing in, and Rasche's only lead is a Christmas stripper named Noelle.
Book Review
At the time of this article's entry in the SuccuWiki, no review was available. Tera has this work on her reading list and will review it shortly.
External Links