Thank you for over 9.4 million views of the SuccuWiki!
Air Bunnies (eBook)
From SuccuWiki - The Wiki of the Succubi
For other uses of the word Succubus, see Succubus (disambiguation).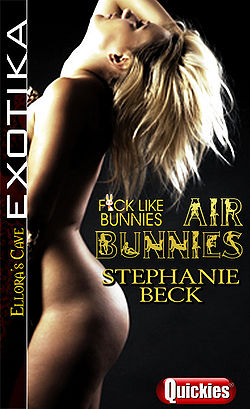 Air Bunnies is a novel written by Stephanie Beck. It is the second book in the F*ck Like Bunnies series by this author, the first book being Bunny Club. The series focuses on a race of were bunnies that exist in this story universe. In this work, Succubi appear as minor characters in the story.
Details
Title: Air Bunnies
Author: Stephanie Beck
Format: eBook
Publisher: Ellora's Cave Publishing
Length: 33 Pages
Language: English
ISBN: 9781419938597
Release Date: January 2012
Synopsis
Jake's missed fight might cost him his job. Desperate to get to Malaysia, he follows a fellow traveler's advice and gets a seat on Double Ear Air. An airline bent on sexy customer service, where the flight attendants offer much more than peanuts and stale pretzels—and don't adhere to those pesky rules against the mile high club and giving head in the aisles.
Just when he's ready to make Double Ear Air his carrier of choice, Jake learns the ugly secret of just who, or rather what, the women really are. To survive to his destination, Jake will have to keep a bevy of horny, blonde werebunnies sexually satisfied or risk being a snack for a pack of ravenous succubus sisters.
Book Review
At the time of this article's addition to the SuccuWiki, there was no review available. Tera has purchased this work and will review it as soon as possible.
External Links