Aimee-Lynn Chadwick
From SuccuWiki - The Wiki of the Succubi
Aimee-Lynn Chadwick

Born
August 19, 1986
Nationality
American
Alma mater
Capachione School
of Performing Arts
Occupation
Actress, Singer-Songwriter,
Producer
Years active
2004-Present
Known for
Lilith in Soul Fire Rising
Home town
Sandwich, Massachusetts
Website
www.aimeelynnchadwick.com
Aimee-Lynn Chadwick (born August 19, 1986) is an American actress, model, and singer. She has several main and supporting roles in both film and television programs as well as being a singer and producer. In 2010, she appeared in the web series Soul Fire Rising as the character Lilith for three episodes.
Acting Career
She attended the Capachione School of Performing Arts, and also performed a variety of stage plays such as Reno Sweeney in Anything Goes, Martha in The Secret Garden, Adelaide in Guys and Dolls and performed with Jon Secada in The Orange Bowl Half-Time Show in Miami, Florida. Following her studies at CSPA, she went on to study at The Boston Conservatory. After exhausting the opportunities available to her on the east coast, she decided to head west. Moving to Los Angeles, where in 2003 she played a supporting role in the Warner Brothers feature, A Cinderella Story, as the quirky/punky, "shock jock" DJ Astrid. This role led to other opportunities such as starring as Alice in Alice in Wonderland and hosting DIRT, a children's motocross show that traveled around the United States.[1] She then landed a guest spot on Nickelodeons' Drake and Josh. Since then, she has played several leading and supporting roles in independent and major motion pictures including leads in both Return of the Living Dead 4 & Return of the Living Dead 5. She also played the role of Jessica in the series premiere of The Forgotten, in 2009, opposite Christian Slater. As well she was involved the the web series Soul Fire Rising, playing the role of Lilith for three episodes. In 2012, she was on stage again in the comedy horror play Soul Less.
She is also an accomplished singer who has opened for Mandy Moore and Vitamin C. She also fronted the punk band Angels to Some and, for a short time, the music group Purple Planet. Other musical ventures include the group Chasing Aimee, The Duo experimental project with filmmaker TJ Nordaker called "The Charles Shaw Project" and Keram on his album "Come to Life".
Succubus Character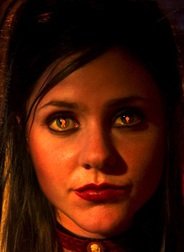 She played the role of the succubus character Lilith for three episodes of the Soul Fire Rising web series in 2009.
Filmography
Films
Year
Title
Role
Notes
2014
The Truth About You
Holly
2011
Prom
Rachel
2011
Last Chance Lloyd
Rachel
Short
2011
ChromeSkull: Laid to Rest 2
Allie
2011
Hard
X-Girlfriend #2
Short
2010
A Killer App
Jewel
Short
2009
All American Orgy
Rachel
2009
Why Men Go Gay in L.A.
2009
2 Dudes & a Dream
Mandy
2007
Trade
School Girl
The Greatest Show Ever
Television
2006
State's Evidence
Girl #1
The Iron Man
Tennessee
2005
Return of the Living Dead: Rave from the Grave
Becky
Sequel
Return of the Living Dead: Necropolis
Becky
Sequel
2004
A Cinderella Story
D.J. (Astrid)
Motocross Kids
Sports Announcer
Television
Year
Title
Role
Notes
2011
The Closer
Kelly Meyers
1 episode
2011
Rizzoli & Isles
Sabrina Scott
1 episode
2009
Soul Fire Rising
Web Series Short
Lilith
3 episodes
2009
The Forgotten
Jessica
1 episode
2009
Supa Pirate Booty Hunt
Bar & Hotel Girls
2008
Las Vegas
Mandy Freemont
1 episode
2007
In Case of Emergency
Off-Camera Singer
1 episode
Campus Ladies
Becky
1 episode
2006
What About Brian
Punker Girl
1 episode
2004
Drake & Josh
Student
1 episode
References
External Links