Thank you for over 12.9 million views of the SuccuWiki!
Ageha Kurono
From SuccuWiki - The Wiki of the Succubi

For other uses of the word Succubus, see Succubus (disambiguation).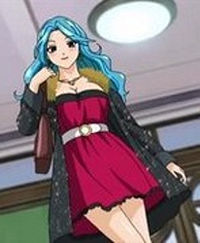 Ageha Kurono is Kurumu Kurono's mother in the anime series Rosario + Vampire, she appears during the start of the school festival under the belief that Tsukune is her daughter's fiancé, going so far as to allow him to "jump" her daughter anytime he wants. She also has a large chest like her daughter Kurumu, and according to Tsukune, her breasts are softer than Kurumu's. Exclusively in Rosario + Vampire Capu2, Ageha and Tsurara Shirayuki hold a long grudge against one another, being rivals for the affection of a student during their days as students at Yōkai Academy.
Character Information
Name: Ageha Kurono
Age: late 30's(about 38-39)
Birthday: Unknown
Monster Type: Succubus
Affiliation: none
Relatives: Kurumu Kurono (daughter)
Class: Yōkai Academy Graduate
Weapon: none
Abilities
Ageha possess the same succubus abilities like her daughter, though they're only shown in the anime, also featured only in Rosario + Vampire Capu2, she is able to fire a laser beam from her chest.
External Links