Thank you for over 9.1 million views of the SuccuWiki!
Afterlife (Paperback)
From SuccuWiki - The Wiki of the Succubi

For other uses of the word Succubus, see Succubus (disambiguation).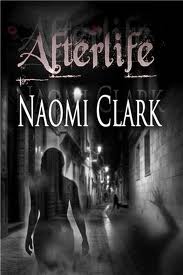 Afterlife is a novel written by Naomi Clark. In this novel, there is a Succubus that appears throughout this work.
Details
Title: Afterlife
Author: Naomi Clark
Format: Paperback
Publisher: Damnation Books, LLC
Pages: 298
Language: English
ISBN-10: 1615720529
ISBN-13: 978-1615720521
Release Date: December 1, 2009
Synopsis
Yasmin Stoker is a ghost tour guide who spends her days showing tourists around Shoregrave's haunted hotspots. She also happens to be a wraith who spends her nights hunting Revenants, newly-risen flesh-eating vampires. On one of her regular hunts, she witnesses a mysterious ghostly girl pulling the body of a teenage boy underground.
Who and what is this girl, and why is she attacking men around the city? Yasmin investigates, but it quickly becomes clear that somebody wants to keep her from finding the killer and they'll do anything-including ambushing her with ghouls and cacodaemons-to stop her. With only a persistent private eye and a taciturn vampire (one of the Immaculate, no less) to help her, Yasmin must deal with fanatical necromancers, crazed ghosts, and a sexy history teacher in her quest to solve the mystery. And along the way she uncovers some heartbreaking truths about her own existence.
Book Review
The following review is from the Amazon.com link in the External Links below:
5 out of 5 stars
An exciting new book from an author with a lot of potential
Reviewed On: August 8, 2010
Reviewed By: ChibiNeko
I was a little nervous about reviewing this at first. After all, I know the author & I was worried: what if I didn't like it? What type of review would I write then? Luckily for me, this is a solidly awesome read.
Yasmin isn't your average girl. She might look like one, but in reality she's a wraith. That means that in order to survive, she has to eat souls. Yasmin is a wraith with a concience, so she tries to stick to revenants- dark souls that have returned from the afterlife, causing them to become bloodsucking fiends. During one of her hunts Yasmin sees a man get dragged into the Netherworld by a shining ghost. Unable to forget the sight, Yasmin involves herself in the investigation & unknowingly involves herself in something even more dangerous than she'd ever expected.
Taking a page from such UF (urban fantasy) favorites as Kim Harrison & Kelley Armstrong, Clark manages to take a plot that's been done before & not only make it her own, but bring a creative new twist to it. Wraiths aren't your usual UF fodder & Clark does a fine job of bringing in several as of yet non-mainstream spookies or giving already known spookies (vampires, necromancers) a makeover.
There's a lot to like in this book & fans who are jonesing for their next UF fix will find a solidly written tale here with a likable & sympathetic heroine. Readers should be warned- this book has been left open-ended & Clark's site says that there's going to be a follow up novel that will focus on one of the secondary (but still important) characters in the book.
The bottom line is that Clark did an incredibly good job with this book & I'm honestly puzzled as to why she's not on the bookshelves of some of the major chains out here. She's better than some of the others out there & this is just with the first book.
External Links