Thank you for over 5.1 million views of the SuccuWiki!
A Red Hot Valentine's Day
From SuccuWiki - The Wiki of the Succubi

For other uses of the word Succubus, see Succubus (disambiguation).

A Red Hot Valentine's Day is a novel by the authors Jess Michaels, Lacy Danes, Megan Hart, and Jackie Kessler.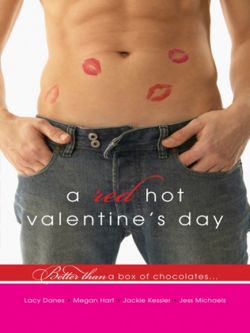 Details
Title: A Red Hot Valentine's Day
Author: Jess Michaels, Lacy Danes, Megan Hart, Jackie Kessler
Format: Paperback
Publisher: Avon Red
Pages: 304
Language: English
ISBN-10: 0061689394
ISBN-13: 978-0061689390
Release Date: January 6, 2009
Synopsis
Cupid is hot to trot!
One fateful weekend at a country estate, a beautiful, well-bred widow is caught between a rock and a very hard place when she must choose between two deliciously irresistible lovers...in Lacy Danes's seductive tale of courtship à la mode, Torn Desires.
Long-distance lovers Edie and Ty are counting the hours until their scorching Valentine's Day reunion, each titillating the other with steamy letters describing their erotic journeys. And getting there is definitely half the fun in Megan Hart's wickedly wild Get There.
Eternal damnation has its perks—especially for a voluptuous succubus who is about to receive a very special, very hot Valentine's Day "gift" from her demon lover...in Jackie Kessler's ode to paranormal passion, Hell Is Where the Heart Is.
London's most irresistible rake has one week to prevent the woman he loves from marrying another. And he plans to do so by adeptly employing his most well-practiced arts—seduction...sensation...and erotic love—in Jess Michaels's sumptuous feast of juicy Regency romance, By Valentine's Day.
Book Reviews
The following review is from the Amazon.com listing in the External Links below:
5.0 out of 5 stars
Enjoyable Sensual Reading for Valentine's Day!
Reviewed On: January 28, 2009
Reviewed By: Beverly Romance Books
Nothing is so special, except chocolates, flowers and/or diamonds :) for this romantic holiday than a good sensual erotic Valentine romance anthology to read....and this is a good one!
In Lacy Dane's Torn Desires, a beautiful widow, Sophia, who is the lover of the handsome Lord Quinton and happens to live in a cottage near his estate, discovers he has written a special woman friend to pick a proper lady wife who will not only fit into his title but his desires in the bedroom, and she is livid. But then Lord Quinton's friend Miss Anne Cathcort just happens to bring her lover Alistair Taylor, the third son of the Marquis of Lanktor who is immediately drawn to Sophia's sensuality and passion. Soon Sophia finds herself in a "pick and choose" between the two superb lovers. Who will fulfill her desires and eventually her heart? This is one sexy story that keeps the reader entertained and wondering until the end.
Megan Hart's Get There, is one sexy long distance contemporary relationship with sexy and passionate emails, text messages, and phone calls between Edie and Ty as they prepare to finally be together and hopefully pack up and move their careers and homes to be together before Valentine's Day. The sensual fantasies Edie and Ty create are fun and the story leaves the reader patiently waiting to see if these two passionate lovers can make the Valentine's Day deadline to create a loving and sensual future.
Valentine's Day wouldn't be fun without a sensual paranormal romance in this anthology and Jackie Kessler hits a high score with her tale of one cuddly incubus and an oversexed succubus, in Hell Is Where the Heart Is. Daunuan and Jezebel have longed for each other throughout the Abyss and finally get a chance to be together, even if they have to take time out to join with a few humans along the way. The story is creative with short sensual and erotic subchapters that move back and forth from Daunuan's and Jezebel's thoughts, feelings and specialized sexual desires. Those who love to eat up a good paranormal will love this sensual underworld Valentine story.
By Valentine's Day by Jess Michaels is the real treat of this anthology and is worth purchasing this book just for the opportunity to read an excellent erotic story from one of the best erotic romance authors. This writer's specialty, the Regency Romance, pulls the heartstrings as two long time friends the beautiful Charlotte and handsome Colin, face the reality that they have loved each other for as long as they can remember. But Charlotte is to marry again. Will Colin be able to face his love this time and tell Charlotte in order to stop her wedding decision in time? Can he convince Charlotte that his reputation as a rake has been to avoid his true feelings of passion and desire for her? She is to make her decision to marry another by Valentine's Day. Will Colin prove himself by that special date of romance, or will his plan of seducing Charlotte backfire?
External Links