Thank you for over 5.1 million views of the SuccuWiki!
A Job From Hell (eBook)
From SuccuWiki - The Wiki of the Succubi

For other uses of the word Succubus, see Succubus (disambiguation).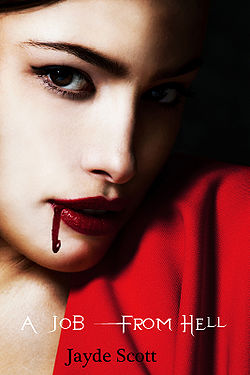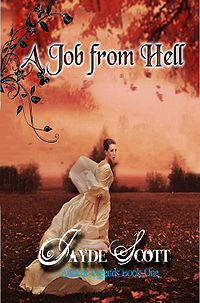 A Job From Hell is an eBook written by Jayde Scott. It is described as being the first book in the series Ancient Legends by this author. The other works in the series are Beelzebub Girl and Voodoo Kiss. In this work several of the characters are Succubi.
Overview
Title: A Job From Hell
Author: Jayde Scott
Published By: Smashwords and CreateSpace
Length: 424 pages
Format: eBook and Paperback editions
ASIN: B004YTI17M
ISBN-10: 1461131332
ISBN-13: 978-1461131335
Publishing Date: eBook: April 30, 2011 - Paperback: May 9, 2011
Other Works in this series on SuccuWiki
Plot Summary
Enter a world of forbidden love, rituals, dark magic and ancient enemies...
The moment Amber starts her new summer job in Scotland and sets eyes upon Aidan, her fate is sealed. Summoned by an ancient bond, she can never love another. Lost in the woods one night, Amber enters Aidan's deadly world by chance when she unknowingly participates in a paranormal race, and promptly wins the first prize - a prize worth killing for. In a world of forbidden love, ancient enemies, legends and rituals, nothing is as it seems and no one can be trusted. Amber's life will never be the same again, unless she searches the Otherworld to retrieve what everyone wants. But to do so, Amber must die.
Book Review
At the time of this article's entry in the SuccuWiki, no review was available. Tera has purchased this work and will review it as soon as possible.
External Links