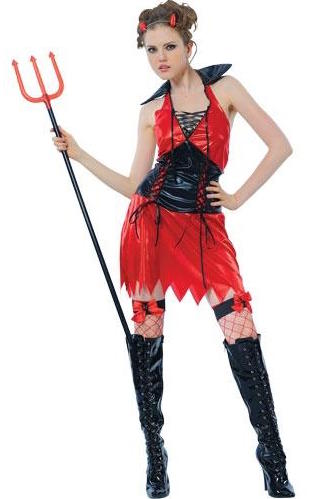 Once again the possible has happened, by now I know that there will always be a awful costume to cringe at and, sometimes, the level of cringing will be astronomical in nature. According to the blurb with this costume: "You'll look hotter than hell this Halloween when you're wearing this alluring devil fancy dress costume." I doubt it. Very much.
This is called the Hellfire Devil Halloween Costume and it comes with the dress, that apparently has an attached tail,  the black garters with red bows and the horns. The most disliked of all pitchforks is not included, nor are the boots, or the fishnet stockings and it sells for $53 US.
Trashy is putting it lightly I think. Actually that could be seen as a compliment as the only other description I can think of is slutty, and really that should never be.
Nothing that I like, nothing that I would want, and most of all…
To who exactly would the look "hotter than hell" in the first place? What universe do they live in where something this awful could be seen as being sexy, or desired?
Completely awful.
Zero pitchforks out of five.
Never mind stay away… Run.
Tera