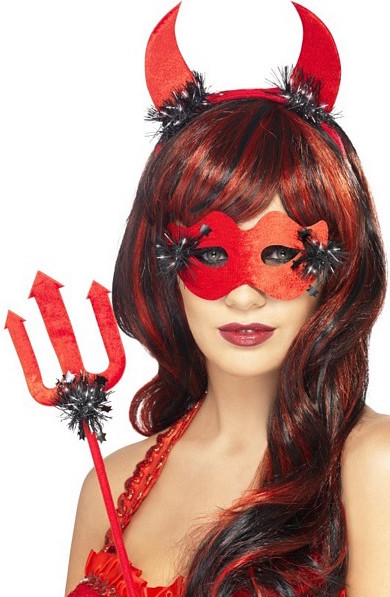 Not a costume this time to rant over… No, this time I've found another of those "accessory" kits which are supposed to be the answer to all of your Halloween night costume needs. And it isn't by far.
This is called the Devilicious Kit and it comes with the mask, horns and, as usual, a completely lousy pitchfork. The wig the model is wearing is not included. It sells for about $10 US on the sites I have found this disaster on.
It's simply one of the worst looking "costume" creations really. It looks cheap, which it is. It has no class, for there isn't any to be found here. To me it almost looks like someone had some leftover Christmas tinsel and decided to use a staple gun and attach it to some leftover devil accessories and call it a day.
The horns are awful, they look like two pieces of red cardboard, if that, and even with the wig, it just looks so wrong. I've seen some really bad horns before but this set has to be the absolute worst by far.
Nothing good here, nothing to do but set the entire mess on fire and watch it turn to ashes.
Zero pitchforks out of five.
Why is it so difficult to create something that looks nice or am I asking for too much?
Tera