Occasionally on YouTube, there are dance videos shared that have somewhat of a succubus theme to them. Some of the most sensual and mesmerizing are those created by bellydancers. I've always been fascinated by how succubus-like, at least in my mind, some of the sinuous movements are. I found this particular video some time ago, and I wanted to share what I felt was something quite special…
If you cannot see this video on the Tale, please try this link:
https://www.youtube.com/watch?v=R_47UjF27eY
As well, here is an image of the artist herself, Elizabeth Stuardo in the midst of her dance…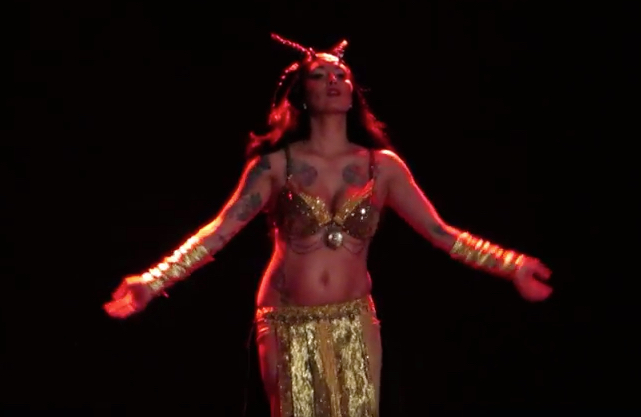 I feel the dance captures the essence of the seductive qualities of a succubus, the power she has to hold the eye, the imagination, and more. I mentioned the sinuous feel of her dance and there's a bit more than that here. There's a simmering of the sensual, but also there's a level of control, of holding her powers tightly within herself, allowing them to tease and tug at those watching.
It is quite the talent to be able to do so, and that makes this dance a bit more than I expected it to be. I'll also add that her appearance, horns and all, lend themselves to the dance in the most perfect way and, for me, was a joy to see…
Tera