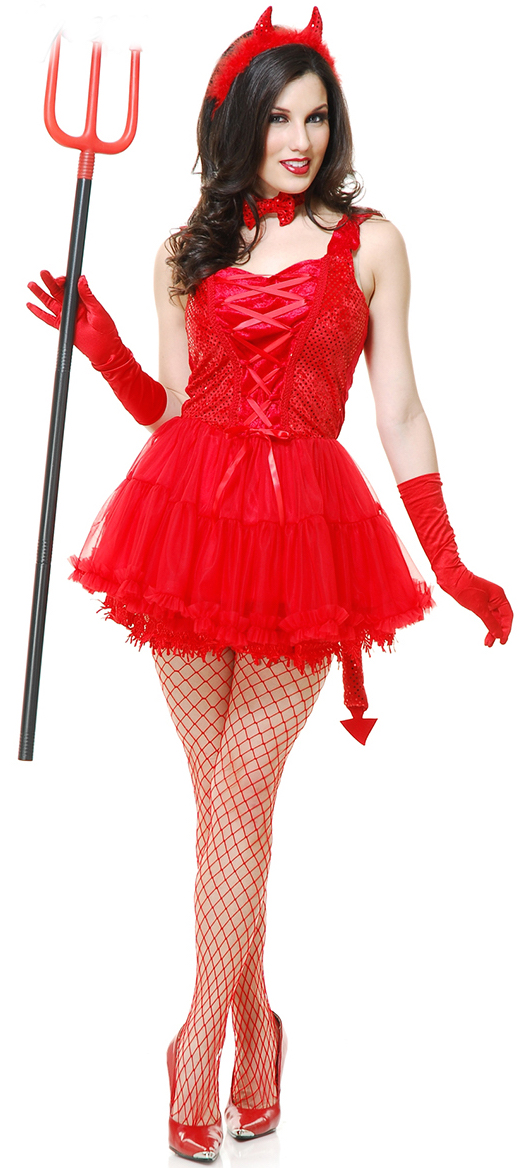 Sometimes there are costumes that have the barest possibility of being sexy, but then, of course, there has to be something that takes all of that away…
This is called the Red Hot Devil Costume and it comes with the red lace-up mini dress with a tutu skirt, the neck tie and devil horns headband. The pitchfork, gloves, petticoat, shoes and pantyhose are not included. The costume alone sells for $83 US, but adding the accessories pushes this to about $160 US.
The one thing that just makes me cringe are the horns. They are simply atrocious. I don't understand why such a lousy pair would be attached to what otherwise is a cute little costume. I will also add that I don't care for the bow tie, the attached tail looks lousy. But, and this means nothing… I like the shoes.
Thinking about this, I would change the horns, remove the tail, I have better ones, and otherwise the look really isn't all that bad.
It takes some effort to make things look better. It need not if the designers would, at the start, try to keep the idea of sexy and seductive in mind.
It's not hard to see tacky in most costumes. It's also not that hard to see something good, if is would only be brought to the fore…
Three out of five pitchforks.
Im being generous I know. But there's something here that I like, even if only a little so…
Tera