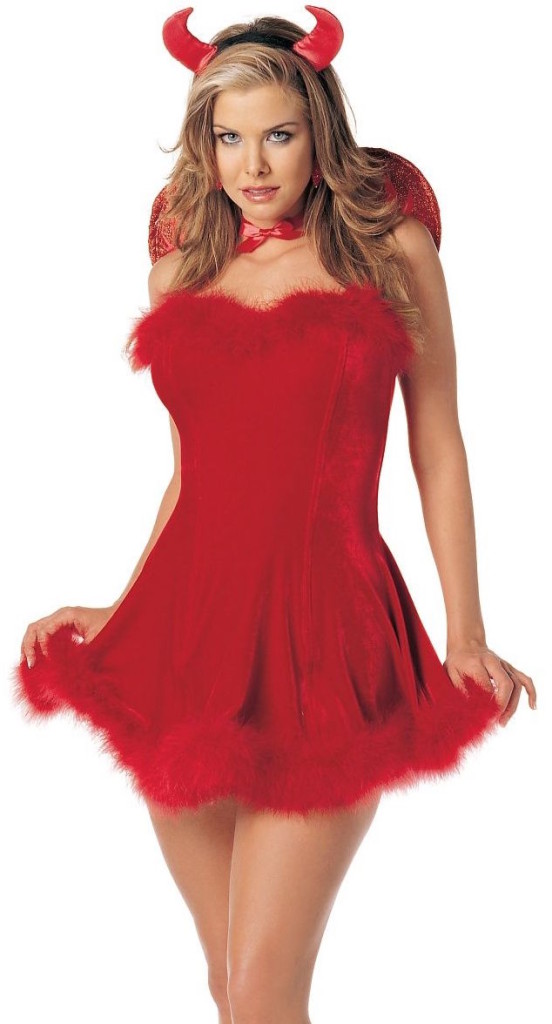 It's not often that a Devil costume comes with wings. It's also not too often that the costume itself is really just a babydoll nightie with a new accessories tossed into the packaging. That still doesn't mean that the costume itself is any good, or sexy, at all.
This is called the Darling Devil Costume and it comes with the stretch velvet and marabou feather dress, the horns and wings the model is wearing and nothing more.
It sells for $75 US, but can be found on sale for as little as $45.
Truly lousy horns, the wings, which you cannot see in this image, are held in place by the ribbon that is draped about the model's neck alone, which means they are going to be wobbling around and getting in the way until, of course, the ribbon breaks and they are tossed aside.
When that happens, really all that remains is a babydoll nightie with a pair of depressed looking horns.
So, as such, then why wouldn't I just find a much nicer looking dress, a pair of horns from my collection and leave the wings and replace them with a tail?
It is cute, to a point, but really there's not much here that tells me it is "darling" or otherwise.
One pitchfork out of five.
Homemade might be the theme of this year at this rate…
Tera